OEM Air Filter Protects AEC Portable Chiller Air Intake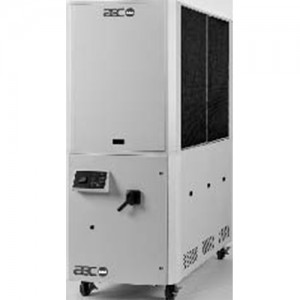 Every piece of cooling equipment, large or small, stationary or mobile, indoors or outdoors, needs preventive maintenance. Dirt, grease and other debris continually coat and insulate condensing units, electrical systems, motors and other components located in the path of the air intake. The placement of equipment and their air intake locations pose unique challenges in hostile environments such as: restaurants, laundries, garage/loading docks and manufacturing/industrial processing areas. Airflow obstructions of any kind are a costly expense. Even if foreign objects are not visible, the buildup of airborne dirt will impact the equipment's ability to work efficiently, and require repeated maintenance and cleaning. Dirty equipment means efficiency decreases, heat build-ups, higher discharge pressure and increased amp draw. Forced to run for longer cycle times, at reduced capacity, the equipment eventually breaks down, life expectancy decreases and power costs escalate.
One believer in using a proactive approach to maintaining top performance levels from their equipment is AEC, Inc. An industry leader in the manufacture of auxiliary equipment, they provide a broad line of portable and central chillers, cooling towers, plant-wide chilled-water systems, and fluid temperature control units. AEC has been installing equipment protection screens, designed and manufactured by Permatron Corporation, in their chiller units since 1994. AEC's PS Series 5 to 15 hp Portable Chillers, have an operating leaving water temperature range of 30°F to 65°F (-1°C to 18°C). Featuring hermetic scroll compressor technology for reduced energy consumption and improved system reliability, these units rely on two side-positioned air intake areas and one or two top loading exhaust fans, depending on the model. Each air intake, NEMA-rated ODP fan motor on the air-cooled portable chiller utilizes a protection screen developed with three-dimensional polypropylene media, encased in a steel frame.
A unique application for AEC's PSA5, 460/3/60 portable chiller was an installation in Mexico for a fluorescent lighting manufacturer. Installed in conjunction with an AEC temperature control unit, it is used to maintain a constant temperature in a large, outside storage tank of varnish used in their process.
Accumulator Chamber® Design Air Filters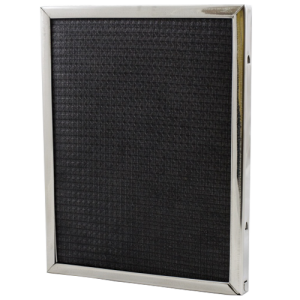 The unit's high-efficiency scroll compressor and close tolerance temperature control (±1°F) maintains precise process set points within an operating range of 30° to -65°F, requiring maximum air intake efficiency. Placement within an active industrial facility means that along with the necessary re-circulating air needed to maintain the chiller's efficiency, the equipment's air intake fans will draw in contaminating dirt and dust particles. This unit's screen, featuring Permatron's unique Accumulator Chamber® construction, contains two ¼" filtration panels held securely within an outer steel frame. This exclusive design resists particulate buildup on the surface to maintain adequate airflow. Low resistance to airflow allows for maximum equipment efficiency, reduced pressure increases and heat build-up. The PS Chillers were designed to simplify service and maintenance. Placed on the outside of the chiller for easy access and removal, the equipment protection screens can be washed and reused indefinitely.
As a designer and manufacturer of this type of equipment, AEC handles installation, service, and ongoing technical support. To maintain their long-term customer relationships they partner with manufacturers like Permatron Corporation who help keep their equipment simple to install, operate and maintain.
High Quality, Long Lasting Products
In a tight economy, the need to differentiate products from the competition is a top priority. Precision engineering, top quality parts and manufacturing are all key elements to the success of a product. Well-maintained equipment costs less to operate, ensures optimal life expectancy, minimizes sensitive equipment breakdowns/down time, and maintains energy efficiency. Ensuring that the equipment delivers consistent high-level performance alleviates the need for unnecessary service calls and warranty claims. Top equipment performance and outstanding buyer protection are the reason your equipment will be the number one choice.
Permatron Corporation, designers and manufacturers of air filtration products since 1957, has developed various styles of permanent/washable PreVent® equipment air intake protection screens. Made of woven synthetic fabric media, which draws in and traps airborne particulates, the screen is enhanced by airflow. No electrical connections or system modifications are needed. Engineered with either a specific application in mind or various cut-to-fit applications, the PreVent screen can be affixed by a unique and patented, magnetic or hook/loop attachment. The screen, when framed in steel, can also slide easily into a channeled holding frame. Built with durability in mind, the equipment protection screens will stand up to hostile environments including corrosive areas, UV exposure and fluctuating weather conditions. Customized protection needs are available using wire cloth, perforated metal, netting, woven and non-woven media, odor/fume adsorbing media, flexible or steel edged screens.