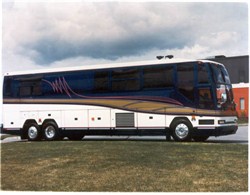 Luxury motor homes and buses are a fabulous way to see the world. Whether traveling on an endless high-traffic intercity bus route or a 600 mile motor coach tour showcasing the interior of Alaska and Yukon Territory, personal comfort is key to the quality of the experience.
An HVAC system properly designed for buses and motor homes can eliminate adverse health effects caused by poor indoor air quality, and contribute to the enjoyment of the trip.
Maintaining a high comfort level for numerous passengers confined in a small space for long periods of time is quite an engineering challenge.
Fortunately, Prevost Car Company of Ste. Claire, Quebec has spent over 90 years manufacturing buses and motor homes with optimal comfort as the primary objective.
Air Filters for Buses and Motor Home HVAC Systems
In their continual search for excellence, Prevost engineers reviewed the components of their bus and motor home HVACR systems.
They determined that the existing wire mesh air filters were not doing the best job of maintaining good indoor air quality and equipment protection with continuous exposure to roadway dirt and dust.
With this problem identified, the Prevost R&D team designed a state-of-the-art climatic control system that provides heating and cooling with adequate amounts of conditioned, filtered air into each vehicle, in all weather conditions. The team's main filtration objectives were to achieve higher airborne pollutant arrestance efficiency without restricting the air flow required to maintain the sophisticated climatic control system.
Fresh air is drawn into the system from the outside as needed. Uniform interior temperature is controlled by a six-stage electronic energy management control system. The heater and evaporator cores are mounted in the second left-hand baggage bay for easy accessibility. The second right-hand bay holds the condenser core, which is hinge-mounted to provide access to the two motors and two axial fans.
A carrier 05G compressor is mounted in the rear engine compartment and is directly driven by the engine through V-belts. Twin axial condenser exhaust fans vary from 220 C.F.M. to 2700 C.F.M., maintaining 2200 C.F.M. in heat mode. This flow gives a 400 to 500 pi/m face velocity at the filter.  Fifteen percent of fresh air is mixed with the returned air. It passes through a Permatron electrostatic air filter, then through the cooling and heating coils before being thrown back into the coach, through grills below the windows on both sides of the vehicle.
Permatron's exclusive Accumulator Chamber® design allows the air filter to maintain a high dirt holding capacity of 130 grams without face loading or restricting air flow requirements. Independent tests using the ASHRAE standards show the filter in this application has an average arrestance efficiency of 78%, and an initial resistance of 0.11 IN. WG.
Permanent, washable and constructed to outlast the system in which they are installed, Permatron filters include electrostatic polypropylene media and galvanized or stainless steel frames. Prevost's filter maintenance schedule involved monthly rinsing with water, stands up to regular cleaning and requires no replacement.
Prevost's enviable reputation for innovation and reliability dictated that the products specified for its buses are manufactured in a similar manner. Permatron's 64 year history of proven product performance made its air filtration products the logical choice for Prevost over the past 31 years.