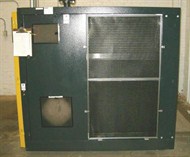 Compressed air, commonly referred to as the fourth utility in the industrial world, is as crucial to the manufacturing process as electric, water and natural gas. Delivering an extremely efficient energy supply, these industrial compressors generate the "plant air" that operates pneumatic equipment and air powered tools.  It's a simple process with a goal of providing more air with less fuel consumption.  Compressors enable major industrial manufacturers, like the Checker Motors Corporation (previously known as the Checker Cab Company), in Kalamazoo, Michigan to process their steel auto bumpers and other body components in the heart of automobile capital of the world. These busy compressors often operate a continuous heavy duty cycle 24 hours per day, 365 days per year.  Large 200 horsepower industrial air compressor packages, such as the KAESER Model DSD 200 shown here, are designed to run for extended periods of time, in demanding industrial applications.  Similar, but smaller portable KAESER units provide compressed air for construction sites and other industrial environments that place them right in the middle of demolition sites, sand blasting, sprinkler irrigation and monument engraving.
Problem – Airflow Obstructions
Particulate contamination is the #1 enemy of industrial compressors.  As dirt is being drawn into the air intake louvers of the compressor enclosure cabinet, it clogs the oil cooler and after cooler (2 cell cooling system), fin and tube heat exchangers, pneumatic control valves, electric motor cooling air intakes, centrifugal fans and sensitive electrical controls (like variable speed drive systems).   Airflow obstructions in these types of equipment can be a costly expense.  Typical maintenance programs of cleaning and setting adjustments are required every 500 operating hours to prevent equipment damage and to allow the systems to run at peak efficiency. Major annual maintenance of part and fluid replacement is required approximately every 2000 operating hours.    Both of which require costly man hours and equipment downtime, which ultimately interferes with industrial processes.

Solution – Electrostatic Air Filters
As a solution to protecting the sensitive components inside the compressor enclosure, TGF Engineering (based in Indiana) recommended the installation of Permatron's PreVent Equipment Protection Filters.  TGF is an engineering consulting company who specializes in "engineered solutions" for air side, equipment protection filtration.  Effectively preventing debris from entering the air inlets, the PreVent filters are made of washable, 3-D polypropylene media, which draws in and traps airborne particles.  The electrostatic media, enhanced by airflow needs no system modifications or electrical hook-ups.  Custom sized and manufactured to fit any sized air intake, media can be framed with flexible vinyl binding or rigid galvanized steel frame. Installation options include grommets, bungee hook cords, velcro hook/loop,  magnet stripping or metal clips affixed to enclosure cabinet.  Polymer coated polyester media mesh is available for high abrasion applications.  Filters are easily cleaned by rinsing with water or using a portable shop vacuum.  The black media is UV protected, for indoor or outdoor use.  The media's inherent electrostatic charge won't diminish over time, providing years of equipment protection. PreVent® the damage before it's too late!