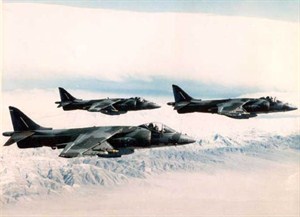 Strategically situated in the warm, dry climate of Yuma, Arizona, the Marine Air Corps Station commands five square miles of Sonoran desert. This is the busiest air station in the Marine Corps and the second-busiest in the Navy. Its primary mission is to support aerial weapons training for the Atlantic and Pacific Fleet Marine Forces and Navy, and serve as a base for Marine Aviation Weapons and Tactics Squadron-1, Marine Aircraft Group-13 and other 3rd Marine Aircraft Wing units. Launched in 1928 as Fly Field, this exciting, technologically advanced facility played key roles in World War II and Desert Storm. Today, over 5,000 active duty marines and sailors, over 1,000 civilian employees and over 6,000 dependents live, work and play at the base, making it one of the top three economic contributors to the area. First Lieutenant/Public Affairs Officer W.G. Jimenez said that base housing consists of 821 units comprised of various styles and types that range in age from 12 to 35 years. Most are frame and stucco townhouses with the living area on the first floor and bedrooms above. The two-bedroom units measure 1,100 square feet, the three-bedroom units measure 1,500 square feet and the four-bedroom units measure 1,400 square feet; all exceed minimum square foot living standards. The units feature individually-controlled HVAC systems for maximum comfort levels in the hot, dry desert environment of this extreme southwestern corner of Arizona.  Within the individual units, both split and package systems are used with a rating of 11 S.E.E.R. (the Rheem brand is the newest) with gas being the sole energy source.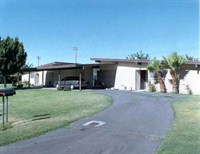 Electrostatic Air Filter Solutions
Given the Marine Corps Air Station's intense focus upon air and what moves through it, their concern for indoor air quality was only logical. Assigning the Permatron brand of air filters to active clean-air duty in many of the base's housing units was a proven, long-term choice. Before the Permatron electrostatic air filters were installed, the base was using disposable fiberglass filters. The decision to replace these was made to increase efficiency and eliminate the need to repeatedly dispose of and replace the filters. Leslye Sandberg, Permatron's president, said, "whether your goal is indoor air quality, HVAC system protection or both, the filters you specify should also provide the least cost over their useful life. Let's face it, budgets aren't what they used to be, especially in government facilities, and when your organization is looking hard at the bottom line, it's critical to know the products you recommend or approve are as cost-effective as possible." To keep its numerous HVAC systems in proper working order, the base contracts for the maintenance services of Cabaco, Inc. According to William Jordan, lead HVAC technician at Cabaco, no other types of air filters were being considered to replace the disposables, and there were no government compliance issues that required consideration. "Being in the trade for seven years with two years at the wholesale side," explained Jordan, "for quality, I chose Permatron.  They've been standing behind their permanent/washable air filters for 40 years."
Permatron's Proven Air Filter Quality
Over the past several years, hundreds of less efficient disposable air filters have already been replaced by Permatron air filters. And throughout the past year, as the old HVAC units are being replaced, Cabaco arranged for the purchase for additional Permatron electrostatic air filters. These installations will continue until all housing units have been converted to cost effective, high efficiency HVAC systems. Continuous orders ship from the factory in Franklin Park, Illinois, to the Yuma, Arizona branch of Heating and Cooling Supply. Headquartered in San Diego, California, this major west coast HVACR wholesaler has been distributing Permatron air filters since 1991.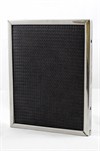 The Permatron filters installed at the military base in Yuma are the DustEater® Easy Flow brand. These electrostatic filters feature very low resistance to air flow, a performance capability that is especially important to the peak operating efficiency of today's 90+ equipment. Independent laboratory testing yields the following data to ASHRAE standards: 82% arrestance efficiency, 0.11 in. w.g. initial resistance to air flow and 105 grams dust holding capacity. The woven polypropylene media carries an electrostatic charge enhanced by the flow of air over its surface to attract airborne particulates like iron filings to a magnet. The charge is inherent in the media and will not disappear or diminish over time. The polypropylene media is also protected by  Microban®, a sub-micron sized cell wall penetrant that disrupts the metabolic function of bacteria, yeast and fungi. It strikes unwanted organisms in a way that interrupts their ability to function, grow and reproduce.  Microban, registered with the EPA,  is incorporated into the raw media as it is produced, and it is long-lasting, water insoluble and environmentally friendly. (Microban is a registered trademark of Microban Products Company.)
Permatron DustEater Air Filters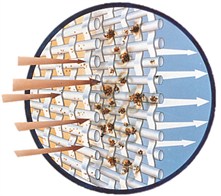 DustEater Easy Flow is designed with Permatron's exclusive Accumulator Chamber® which "stores" captured particles and effectively separates the media layers within two – 1/4″ frames positioned in a 1″ outer frame, to minimize face loading and maximize cleanability. Attracted to the media fibers in the direction of air flow, the particulates build up on the fibers without face loading. If an excess builds up (due to high concentrations in the air, or failure to regularly clean the filter) on the front panel (prefilter), they tend to break off, allowing air flow to sweep them into the Accumulator Chamber. Cross currents therein cause further agglomeration and some settlement until the filter is rinsed. Permatron's innovative, exclusive product design avoids the common filtration method of stacking layers of media, a configuration which can certainly be effective, but may also exhibit key engineering disadvantages. Whereas the initial pressure drop is within acceptable levels, after a period of time, residual particulates can build up between the compressed layers. In this case, even a filter that has been properly cleaned may have developed an abnormally high pressure drop. DustEater Easy Flow has earned a Class 1 flammability classification from Underwriters Laboratories, Inc., a grade that is of particular importance to many commercial customers. In addition, it carries a lifetime warranty for long term satisfaction. No system modifications, electrical hookups or replacement parts are required for the use of this product. Since the filters are installed within individual housing units, tenants perform their own maintenance. This simply involves back-flushing the filter in the shower, dishwasher or sink. "When tenants move in," explained Jordan, "they are instructed to wash the filter every 20 days." To help ensure that this occurs, Permatron provided each tenant with a handy cleaning sticker. Permatron Corporation manufactures a variety of air filters for residential and commercial applications. The lineup includes the following types of filters, all of which meet the particular requirements of a given environment: electrostatic, activated carbon, zeolite, extended surface, prefilters, protective screens, flexible-edge filters and others. OEM products include filters for highly specialized industries such as telecommunications and transportation. In addition to distributing to the domestic market, Permatron exports to Canada, Mexico and overseas to Asia, Europe and South America. The company takes pride in its products, and has earned a solid long-term reputation for uncompromising excellence in the worldwide HVAC community.