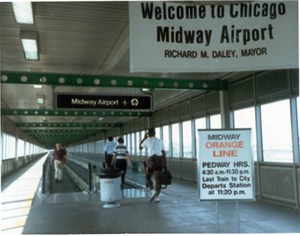 When farmland gave way to the emerging field of commercial aviation in the mid-1920's on Chicago's southwest side, the city got its first airport, Midway. In the 1960's, the opening of O'Hare International Airport overshadowed Midway's importance to air travel. However, more recent events have revitalized Midway and its surrounding neighborhoods.   Expansion plans over the past decade include five runways, now covering over 650 acres of land. Today, Midway Airport is once again a viable transportation center offering hundreds of domestic and international flights daily. The biggest boost came when the Chicago Transit Authority opened a CTA terminal at the airport in 1993, and the Southwest Side elevated (commuter rail) line opened. It cut travel time from the area to the Loop by two-thirds. Construction of the Chicago Transit Authority's Orange Line, which directly connects Midway to downtown Chicago, led to the construction of the Pedway or people mover. This spacious, enclosed corridor safely transports travelers directly to Midway from the rail station. The Pedway, which was designed by Harry Weese & Associates, spans 1,200 ft (366m). The Pedway walls include windows with louvers at the top and bottom for natural ventilation. Its ceiling features exhaust fans at 100 ft (30m) intervals. Plans called for air filters to be installed within the louvers to eliminate the potential for infiltration of rain, snow and other elements.  Because the louvers open directly to the outside, it was specified that the filters could not disintegrate over time.
Electrostatic Air Filters
Electrostatic filters, manufactured by Permatron Corporation, were specified for the project. Their purpose was to allow natural air flow through the Pedway and to filter out adverse elements such as dust, dirt, leaves, snow and rain. More than 600 Permatron PreV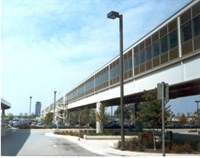 ent® Model U filters were installed between the inside face of the louvers and perforated metal panels. The 1/8″ (3mm) thick hammock style filters consisted of two layers of woven polypropylene filter media permanently bound with a flexible vinyl edge. This particular air filter media features an open weave that enhances free air flow through the louvers, while trapping airborne particulates. The filter media is also resistant to microbial growth as well as extreme temperatures, humidity, precipitation and wind. Maintenance requirements for the filters are minimal, involving only periodic washing. At Midway, the maintenance schedules calls for a simple rinsing with water twice a year. Replacement is unnecessary for many years unless the electrostatic air filter becomes damaged.