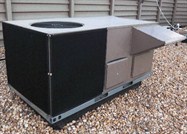 Want to know a great way to reduce your carbon footprint? Keep your HVAC equipment clean! In order to operate efficiently, outdoor HVAC equipment must be clean and free of debris. Natural pollutants, such as dust, tree seeds, leaves, and other debris can very easily clog air intake louvers and condenser fins.
According to EPA research, as little as 0.042″ of dirt on an air conditioning coil can reduce its efficiency by 21%.
An article in the Refrigeration Service Engineers Society Journal states that a 5-ton A/C system could use as much as 37% more power if the coils are dirty.
A 5-ton A/C unit protected with PreVent® equipment filters, using approximately 3,750 less kWh of electricity per season, will generate approximately 5,625/bs less C02 emissions than an unprotected A/C unit with dirty condenser fins, assuming 1.5 lbs C02  emissions per kWh of electricity.
Air Filters Help Reduce Carbon Footprint
PreVent Air Filters can be used to protect an extremely wide range of equipment. We offer custom air filters built to meet the exacting requirements of our clients. Some of the applications include :
Air Conditioner Condensers
Rooftop Heating/Cooling Units
Air-to-Air Heat Pumps
Fresh Air Louvers
Chillers / Cooling Towers
Economizer Equipment
Any other outdoor equipment with an air intake
Indoor equipment (coolers, freezers, etc)
For more information, contact Permatron for a FREE QUOTE today.