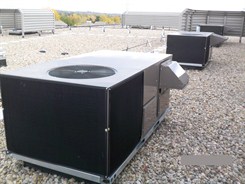 Commercial air conditioners on rooftops face a host of environmental challenges. Unshielded and unguarded from the elements, rooftop air conditioning units (also called RTUs or 'roof top units') face unrelenting hazards that contest their ability work efficiently on a daily basis. Maintaining proper airflow is one of the most vital aspects of maintaining building or HVACR systems. Debris and contaminants getting inside sensitive equipment can destroy these units from the inside out. This quickly adds up to a costly loss of productivity, or at the very least, a reduction in safe, efficient system operations.
Commercial Air Filters for Rooftop Units (RTUs)
Commercial air filters for rooftop air conditioning units provide an effective defense against airborne debris and contaminants that can damage commercial air conditioning units – particularly RTUs. Keeping equipment clean and running optimally, particularly in the case of facilities managers and property managers, is of utmost importance. Calls from building tenants complaining about diminished cooling capacity during the hot summer months can mean thousands of dollars in expensive maintenance from a qualified professional.
Rooftop Air Conditioner Filters – Proper Maintenance
Because RTUs are particularly likely to suck in contaminants into air intakes, significant damage can be done in little time. This can greatly reduce the equipment's interior filter life. This will also reduce critical air flow and increase the need for frequent coil cleanings. Proper RTU Air Filters from Permatron will prevent debris from impacting the performance of expensive rooftop HVAC and air conditioning equipment.
Permatron Commercial Air Filters Since 1957
For more than 60 years, Permatron has offered cost effective air filter products and can custom build a solution to meet your exact requirements today. Contact Permatron today for more information.
Rooftop Unit Cottonwood Screen Case Studies
Cottonwood Blankets Roof Top Units Situated twenty miles southwest of Denver, the Parker Water and Sanitation District serves more than 22,000 Colorado residents. The District's mission is to deliver clean, high quality water to its customers, and then manage, operate and maintain the 150 mile long sewage collections system that safely transports it all back from their homes and businesses to waste-water treatment plants. The facility includes two activated sludge waste-water treatment plants that can treat up to 3.5 million gallons per day. As most facility managers can attest, Mother Nature doesn't always adhere to those same objectives. Parker's administrative office and largest treatment facility, as well as a variety of outlying buildings, holding ponds, aeration tanks, wells and pumping stations lie within an area that is dominated by large cottonwood trees.
Rooftop Units Under Cottonwood Attack Rooftop units across the country are getting clogged with cottonwood. This was especially true for Arvada, Colorado. Holbrook Service, specializing in commercial and industrial HVACR for the past forty years, was called in to take care of servicing the 35-50 ton Carrier units located on top of a 103,000 square foot office complex. Their annual invasion of airborne cottonwood seeds was just around the corner.
Big Wheels Keep on Turning 40 miles north of Columbus, Ohio is where an automobile legend began. In 1982, the 1st Accord rolled off the line at Honda's flagship auto plant in Marysville. Celebrating production of the 10 millionth Accord this year, the state of the art facility amped up production and shattered a previous all-time high by rolling 492,409 vehicles off the line in 2013. Marysville's 4 million square foot plant provides critical corporate leadership functions that include R&D, sales and manufacturing.