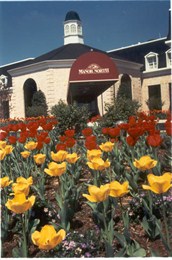 The rolling hills, scenic farmland and traditional culture of eastern Pennsylvania's Lancaster County are a perfect backdrop for the gracious retirement lifestyle of Willow Valley Lifecare Retirement Community. The 200-acre campus includes an 80,000 sq. ft. cultural center, for arts/crafts, woodworking and theater, state of the art fitness center and day spa, plus stately lobby areas. Elegant apartments range from studios to 2 bedroom models, featuring full kitchens, balconies, patios and individually controlled HVAC units. Willow Valley features multiple resident buildings. The Willow Valley Manor North offers 422 apartments averaging 1,300 sq. ft. each. Residents here had the opportunity to upgrade the quality of the air that circulates throughout their units HVAC system. Almost 170 residents, averaging 73 years old, responded to a special offer in the "North Notes" newsletter to purchase washable electrostatic air filters. The idea for the upgrade originated with one of the residents who had been dissatisfied with the filter provided with his apartment's HVAC system. Some residents have pulmonary problems, which poor air quality can aggravate. The Permatron filter catches more dust than the disposable filters they replaced. Guy Skone, HVAC Manager for Hajoca Corporation in Lancaster, said "one or two of the residents had called and asked what was available in air filtration. We sent them literature and one of the residents bought one. Then Curt Musser, Maintenance Supervisor for the community called Hajoca for more filters, and got a volume price. The quality of the product is there, that's why we handle it. We tried other brands, but price and quality decided it for us."
Electrostatic Air Filter Fits HVAC System Design
Each apartment contains a Whalen Vertical Hi-Rise water source heat pump, 1 to 1-1/2 tons, 400-600 CFM air flow and a 3.0 C.O.P. energy efficiency rating. "With an electric heat pump inside the apartment," explained Musser, "you tend to get more dust because there is a lot of traffic past the HVAC unit. I believe these filters improve the indoor air quality. They are well designed and we were able to have special brackets made up to accommodate the electrostatic filters." HVAC system modification is not normally required when installing electrostatic filters. In this case, however, the replaced filters were only 1/2″ thick, whereas Permatron filters' unique Accumulator Chamber® design requires a 1″ thickness.
The Air Filter Choice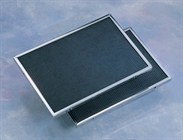 The electrostatic air filters selected for the upgrade project are the DustEater® brand, manufactured by Permatron Corporation. Sold with a lifetime warranty for peace of mind, DustEater offers air cleaning benefits that are especially valuable to people with allergies, asthma and other respiratory conditions which can be common among the general senior population. Residents were somewhat touchy on dust, and some had to dust every day. Rugs in high traffic areas kicked up dirt, and the furnaces are located in the hallway with the return air grille near the floor with the recirculating fan on all the time. Each resident has their own lifestyle, and some keep their windows open. The dust problems are from a combination of rug traffic and the fact that the community is located in a rural area where farmers are cutting hay and strong east winds blow the dust around. Independently tested to ASHRAE standards, DustEater offers 91% arrestance efficiency balanced with low initial airflow resistance of 0.16″ w.g. and dust holding capacity of 160 grams. Electrostatic air filter media uses a triboelectric charge that attracts airborne particles like iron filings are attracted to a magnet. DustEater's unique construction features the 3-stage Accumulator Chamber® design for maximum performance, and a stainless steel frame for rust and corrosion resistance. Manufactured by Permatron since 1957, these filters have proven very effective in many applications. Residents are able to easily clean them with a quick rinse in the shower or sink, and return them directly to the system. No electrical hookups or replacement parts are required to keep these worry-free and functioning for years of cost-effective air cleaning.