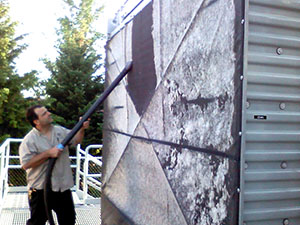 Permatron has been a vital partner to HVAC contractors and distributors for more than 60 years. They know what we know: Permatron PreVent® filters protect HVAC systems, and when HVAC systems are protected, HVAC contractors and distributors benefit as much as their customers do. Here are the top five reasons why so many HVAC contractors and distributors are eager to sell and install PreVent filters to their customers.
1. Easier Cleaning
Customized to fit over any air intake system, our Permatron PreVent filter screens serve as the first line of defense against pollutants and other outside contaminants like dirt, dust, garbage, bugs and cottonwood seeds. This means HVAC systems don't get nearly as dirty, which makes HVAC cleanings a lot easier.
As you know, cleaning HVAC systems can take a lot of time and energy. Also, cleaning can be challenging, partly due to the limited water sources accessible near rooftop equipment. But PreVent filters can simply be brushed off, in place, without the need for water, chemicals or system downtime. Monthly or quarterly cleanings can take HVAC contractors minutes, rather than hours, letting them make more service calls per day, or redirecting their efforts to more lucrative opportunities.
2. More Loyal Customers
When HVAC systems are protected by PreVent filters, equipment won't have to work as hard, so they will last longer and need fewer repairs. More efficient HVAC systems also use less energy—dirty coils can increase a customer's energy costs by tens of thousands of dollars (read our previous blog post: The Real Cost of HVAC Cleaning for more details). PreVent filters can also help customers qualify for LEED credits, and can protect their equipment from hail (although for even more hail protection we recommend our HailStop® Hail Guard Netting).
The result of all these customer benefits? You guessed it—more satisfied, and more loyal customers. Which means PreVent filters not only stop debris from entering HVAC systems, but stops customers from calling a competitor. Plus, a satisfied customer may lead to your acquiring new customers via recommendations and positive online reviews.
3. Extra Sources of Revenue
More than ever, companies are looking to keep their equipment running longer, and may rely on their own team for cleanings. In these cases, PreVent prefilter screens can be a great income supplement. That's because installing PreVent prefilters on every rooftop unit for a customer, especially throughout a large complex or campus, can result in hundreds of thousands of dollars of additional revenue—which is a lot more revenue than most HVAC contractors can expect to earn through a few regular cleanings.
When HVAC contractors propose the use of PreVent filters, it also opens the door to additional air filtration opportunities. For example, instead of being seen as a vendor who merely supplies a commodity product, a contractor may be seen as a source of expertise and trust, leading to more revenue streams, along with a longer lasting, and more proactive client relationship.
4. Easy to Install, Easy to Remove
Maybe the best part of PreVent filters is how easy they are to install using our patented MagnaMount® magnetic mounting clips. These powerful earth magnets simply snap into place without any special tooling—and are taken off just as easily (which makes coil cleanings and HVAC repairs a snap, literally).
5. HVAC Contractors and Distributor Support
At Permatron, we're known for our responsive personal service. If you have any questions or need any assistance, such as knowing how to properly measure an air intake opening with pipe cut-outs so we can best design your customized screen, we're here to help. Just reach out to us for a quote, advice or questions.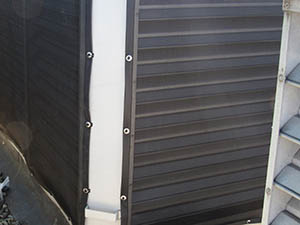 We know not every air intake or exhaust is the same, which is why we offer so many customizable options, including PreVent 3-dimenstional filters and rigid framed models. Selling our made-in-the-USA PreVent filters to your customer is easy, too! Once they know all the benefits of a PreVent filter—such as extending equipment life and lowering utility bills—they'll be eager for you to start immediately. Which means you can start generating more revenue and customer loyalty immediately, too.