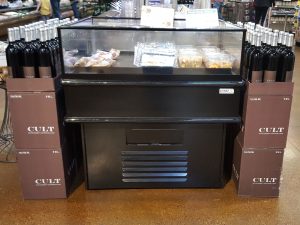 When it comes to OEM products, one size doesn't fit all. That's why since 1957 we've been designing and manufacturing made-to-spec custom OEM products, from OEM air filters to equipment protection screens. Each of our OEM air filter components can be integrated and performance-matched to meet your application specs.
We can deliver an OEM air filter for your cooling tower or your reach-in cooler, for your industrial air compressor or your electronics enclosure, for your kitty litter box or your wind turbine. We offer myriad choices for media—from polypropylene to foam, from metal mesh to bonded aluminum—as well as density, thickness, shape and more. Our framing options, including galvanized steel and vinyl, are just as numerous. Choosing the specifics that work best for your product, that maximizes the lifespan and performance of equipment, is not a cookie cutter formula. Determining all the aspects of OEM air filter optimization depends on a number of factors including your air flow restriction, fire safety perimeters, size limitations, the particulate arrestance efficiency required and, of course, your budget.
We custom manufacture a wide assortment of OEM air filter products and replacement parts, and provide engineering design assistance, metal forming and fabricating, die cutting, sonic welding, assembly, kitting, packaging and much more. We can design washable OEM air filters, disposable filters and many other products. How do we do it?
First, We Start With Prototyping
As one of the country's leading customized OEM air filter manufacturers, we've built our reputation on delivering made-to-spec air filtration components from start to finish—but prototyping is often where it all begins. During our prototyping stage, we will help you select the best filtration media, assist in product design and manufacture the air filter components to your precise specifications. We will then send you a free prototype for testing. Our prototypes are proudly Made in America and our turnaround time is the fastest in the industry.
So, how long will it take? The short answer to that question is "Not long at all." You should receive your full-size OEM air filter prototype in about a week. We then suggest you test the prototype on-site for about two weeks, so you can identify any adjustments that might be needed. Once you approve the design, we can start production within four days, depending on the complexity of the project. Do you think that's fast? We do. In fact, we are, hands-down, the fastest quick-turn custom air filter manufacturer.
Next, We Add Extra OEM Value
We provide a number of OEM services beyond superior OEM air filter design. For example, each OEM air filter is manufactured and labeled with a specific part number that begins with your unique four digit customer code. Then, after manufacturing your part we will drop ship the product directly to your customer, assembler or plant locations with just in time delivery.  We keep your costs down by producing only what is needed—enough to prevent overstocks while meeting inventory needs.
Our flexible manufacturing process lets us respond quickly. So when you need a replacement part immediately to keep your production line running, you're in good hands with Permatron. We can ship same day on smaller orders received by 9:00 a.m.
Permatron is the OEM Air Filter Expert
Permatron has the experience and expertise to develop an OEM air filter solution and aftermarket program not only quickly, but affordably. We've designed and manufactured custom OEM air filter products for business and products in electronics, food service and dozens of other industries such as telecom, marine, medical and transportation.
Whatever your custom air filter need, you can be sure that Permatron has the experience and know-how to deliver to your exacting requirements. Our reputation as one of the country's leading OEM air filter product and replacement manufacturer is built on more than sixty years of proven success. And we're ready to prove that reputation is well-earned, to you.