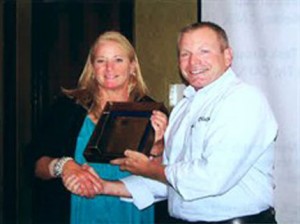 We are proud to announce that this year's recipient of the NAFA Distinguished Service Award is our very own, Leslye Sandberg, President of Permatron Corporation. The DSA was presented to two NAFA members during their annual convention. Ms. Sandberg earned the award by her long time reliable efforts to promote NAFA through her participation on committees, rewriting text for the NAFA manuals, and undertaking consistent effort that upholds the air filter industry.
Ms. Sandberg was recognized for leading her air filtration company for many years and serving NAFA in many capacities including service on Technical and Marketing & Membership Committees. She served on the committee to rewrite the NAFA Guide to Air Filtration Systems, 5th Edition and chaired the committee to rewrite the NAFA Installation, Operation and Maintenance of Air Filtration Systems, 3rd Edition. She served two terms on the NAFA Board before joining the Executive Committee and served as President 2012-2013. Ms. Sandberg is a dedicated advocate for NAFA with other organizations and helped get inroads into the HARDI and ACCA organizations.  She also worked to get NAFA a seat on the ASHRAE Standing Project Committee 52.2. Lastly, she headed the ad hoc committee that advertised, researched, interviewed and hired AMPED – Association Management Partners & Executive Directors, the new management company for NAFA.
Leslye Sandberg holds a BS from University of Illinois, Urbana; MBA from Kellogg at Northwestern University and is a CAFS (Certified Air Filtration Specialist). She has truly accomplished remarkable work for NAFA and still actively does so. Ms. Sandberg has not only successfully turned a small business into a nationally recognized manufacturer but holds multiple utility patents for unique product designs.