Consumers, and in particular urban millennials and Gen-Xers, are demanding food that is more fresh, local, organic and convenient. This is not only reflected in the foods found in grocery store aisles, but in those available with online grocery shopping—a rapidly growing market that some research suggests will exceed $100 billion per year in spending by 2022. Delivering fresher groceries takes an intricate logistics model combining inventory, speed and freshness, and which includes a tremendous need for more cold storage facilities. In fact, a recent report estimates cold storage facilities will increase by 50% over the next five years.
Cold storage facilities are, essentially, refrigerated warehouses that store items at carefully-controlled cold temperatures. They are most commonly found in states with large populations and strong agriculture. For example, there is nearly 400 million square feet of cold storage in California alone. Cold storage facilities house:
Perishable food (vegetables, fruit, meat and seafood, dairy products)
Flowers and plants
Candles
Pharmaceuticals/medicine
Petro-chemicals
Artwork
Film
Lipstick
Cologne
High-tech electronics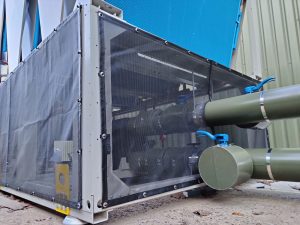 The Challenge with Cold Storage Facilities
While cold storage facilities have been around for a long time, today's buildings are bigger, and have higher ceilings—up from an average height of 22 feet in the 1960s to 38 feet high in cold storage facilities built today. The larger spaces in cold storage facilities demand greater efficiency in circulating cold air to keep them profitable. Energy costs typically account for at least 15% of cold storage facilities' operating budgets, so even a small decrease in efficiency can greatly impact costs.
Additionally, different products require different storage temperatures. For example, vegetables should be stored at 55°F, dairy products need to be stored just above freezing at 34°F, while meat is stored just below freezing at 28°F. This means cold storage facilities must carefully monitor temperatures throughout the facility, and keep them consistent despite the temperature variances, moisture accumulation, outside temperature changes and unit malfunctions.
Air quality is also important, especially when storing pharmaceuticals or other items faced with stringent regulatory requirements.
It All Starts at The Top
Keeping HVAC units in prime working condition is the key to cold, clean air in cold storage facilities. Unfortunately, cooling towers, air-cooled chillers, condenser units and HVAC systems are exposed outside and on rooftops where they are constantly at risk from insects, cottonwood, leaves, pollen and even garbage. These particles can build up and settle within the cooling systems, marring cooling performance and greatly reducing the longevity of heat exchangers and coils. For example, the EPA reports that as little as 0.042″ of dirt on condensing coils reduces their efficiency by 21%, and can increase refrigeration energy use by 35%.
Cleaning these units regularly is necessary, but can be a challenge due to their difficulty to reach, a lack of convenient water access, employees untrained in HVAC care, and high chemical costs.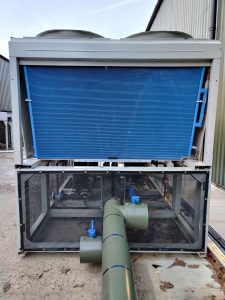 Prevent Problems with PreVent®
An alternative to nearly constant rooftop unit cleaning at cold storage facilities is the use of air-intake filters, such as high-quality PreVent screens from Permatron. PreVent screens are installed on the outside of cooling equipment where fresh air enters into the system. This keeps debris from reaching the delicate fins, coils and high-efficiency interior filter banks. Also, PreVent screens are custom made to accommodate pipes or electrical cutouts, and fit any shape and frame size. They can be secured simply and quickly with our patented MagnaMount® earth magnets. Plus, Permatron delivers the fastest turnaround in the industry and a five-year warranty on all PreVent filter screens.
How much your company might save by using PreVent air intake screens will depend on the size of your cooling units and how many units there are, but our handy calculator tool can help you add up the savings. Whether you manage cold storage facilities or anywhere temperature and air quality is important, rely on PreVent to prevent problems.