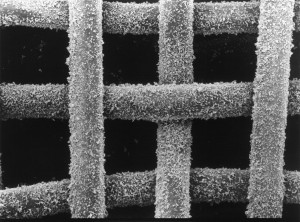 Air filters are designed to remove airborne particulates as the air from your home is recirculated through your ventilating system. Air filters cannot remove dust particulates that have already settled onto your furniture. Air filters are not meant to take the place of all household vacuuming and dusting. Particles visible to the naked eye, such as the dust seen on your furniture, are 50 microns or larger in size. That size particle will not remain in the air for more than a few minutes unless there is high air velocity moving through the room, keeping the particles stirred up and airborne. In order for your filter to work most effectively, your recirculating fan should be running at all times.
Your air filter might not look very dirty on the surface because dirt is distributed throughout several layers of air filter media. Remember that most airborne particles are not visible to the naked eye. Once you clean the air filter you will see the dirty water running out.
Based on numerous test results from an independent laboratory and many years of experience, Permatron filters are second to none when it comes to clearing airborne particulates from inside your home. For optimal performance, locating and eliminationg the source of unusually high levels of dirt and particulates and cleaning your air filter on a regular basis to remove any substances coating it will help keep your system running at peak performance.
PARTICLE SIZE COMPARISON CHART
AIR FILTER INSTALLATION & CLEANING
WASHABLE RESIDENTIAL ELECTROSTATIC AIR FILTERS