Metal mesh filters come standard with many fresh air systems, such as makeup air units. But be careful: these fragile filters are hard to clean, and their lightweight aluminum mesh is dented and crushed easily from water pressure and debris, hail and other outdoor elements. To effectively block harmful particles from the air, such as mold, dust, and certain bacteria, you need a better and stronger filter, like our PreVent Model PF Polypropylene Filter screens.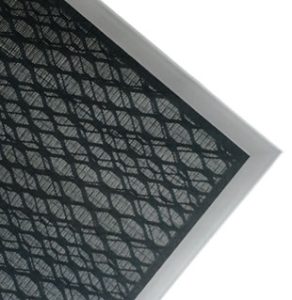 The PreVent® Model PF is a rigid, galvanized steel-framed air intake protection prefilter. It offers a significantly higher ROI than your common metal mesh filter—simply slide it into your existing rack system, and it captures airborne dirt and debris before it enters your equipment, protecting and extending the life of your costly bag, pleated and V-bank style air filters. The PreVent Model PF Polypropylene Filter also extends the life of your equipment, delivers less airflow restriction, reduces maintenance and cleaning costs, and cuts utility bills.
The secret to the success of the PreVent Model PF is its unique two-sided design. The front panel of these PreVent® Polypropylene Filters is similar to two of our most popular models, our PreVent® Model R and Model U filters, both of which also come with one or two layers of black UV-protected BHC polypropylene. This material is durable and excellent for impurity filtration. Meanwhile, the back panel of the PreVent Model PF consists of a heavy and rigid wire mesh, ideal for filter banks with outside exposure. Both sides are surrounded by your choice of a 1″ or 2″ thick galvanized steel frame.
PreVent Model PF: Better for Filtration
Independent testing has shown that the PreVent Model PF outperforms metal mesh filters as a permanent and reusable air filtration solution. Durably designed for high-velocity air flow, excessive moisture and high dirt loads, Prevent Model PF can handle extreme air intake application demands. This Polypropylene Filter can withstand extreme outdoor or indoor conditions, corrosive chemicals, high-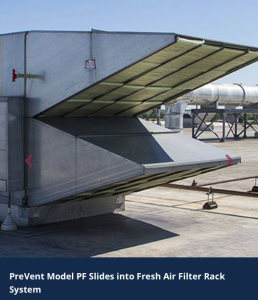 velocity airflow and harsh industrial cleaning and maintenance. It consistently delivers excellent performance—causing less than a 1% change in system discharge pressure and providing negligible airflow resistance. It's also UV protected and backed by a 5-year warranty.
PreVent Model PF: Better for Cleaning
If you've ever used a Metal Mesh filter, you know how difficult they are to clean. You need to spray wash them to remove cottonwood and other debris that wraps onto them, but even then, the debris is difficult to remove.
PreVent filters, however, make cleaning easy. You can merely brush or vacuum them in place without the need for chemicals or tools. The outside contaminants, including cottonwood, insects, pollen and garbage, wash right off. The PreVent Model PF is also more durable—ordinary metal mesh filters may break due to a rugged cleaning. These Polypropylene Filters, however, are built to last. 
The Polypropylene Filter Advantage
The PreVent Model PF filter performs better, lasts longer, and provides more protection to your valuable equipment than inferior filters such as metal mesh. It can be used with any application but is particularly useful in large data centers and telecom facilities, where keeping high-tech machinery cool and clean is a priority and also a challenge. Contact Permatron for more information about our PreVent Model PF Filters and all our filtration solutions.