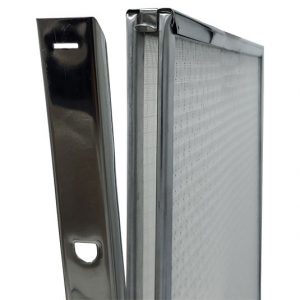 Your air filter protects your HVAC system from damage, helping it last longer and perform better. Quality filters and prefilters not only save you equipment replacement costs but on energy bills, repair bills and even medical bills since your team, residents or customers all are able to breathe in purer, healthier air. Not every air filter is created equally though, which is why our high-velocity Model IN washable electrostatic air filters are so popular. These durable, commercial-grade filters are built to handle heavier dirt loads and withstand rigorous maintenance programs such as those in paper mills or food processing plants.
What is an Electrostatic Air Filter?
Electrostatic air filters are a big step above your common everyday filter. They clean air with a combination of charged airborne particulate attraction and impingement action. The electrostatic charge draws debris to the filter where they stick, like iron filings to a magnet. The charge never dissipates over the life of the filter.
What's the Accumulator Chamber®?
The Accumulator Chamber is an exclusive feature only found in Permatron electrostatic air filters. First invented in 1957, the Accumulator Chamber uses a unique three-stage air filtration process to attract and hold airborne particulates. As these particulates gather inside the chamber, they are pushed together into larger particulates that are now trapped inside. The particles are removed when the filter is washed clean.
How Do You Clean the Model IN Washable Electrostatic Air Filter?
Cleaning the Model IN is simple. Merely remove the filter from the HVAC system, spray it with a mild detergent and then rinse it with water. They can also be vacuumed clean.
Will a Model IN Filter Fit My HVAC System?
Our filters are always custom-made, so they are designed to fit your (or any) HVAC system. We can build a Model IN washable electrostatic air filter to nearly any shape and any size, up to 1,000 square inches. The filters can still be created in sizes larger than 1,000 square inches but require special handling and are not warrantied.
Why is the Model IN Made with Polypropylene?
Not only is polypropylene a hardy, sturdy material that can withstand the rigors of nearly any environment, but polypropylene is also resistant to abrasion, most acids, alkalis, bleaches, solvents, aging, corrosion, high-velocity airflow, and industrial cleaning and maintenance. Polypropylene also provides a naturally passive electrostatic charge that never wears off over time.
Our popular Model IN washable electrostatic air filters contain two to four layers of white or black woven electrostatic polypropylene fabric.
Is the Model IN Better Than a Metal Mesh Filter?
Yes, and in pretty much every way possible. The Model IN is made with durable, woven polypropylene media with electrostatic properties that enhance particle capture. A metal mesh air filter, on the other hand, needs a spray-on tackifier to increase its efficiency and effectiveness. Model IN washable electrostatic air filter benefits also include:
Longer lifespan, even against corrosive chemicals
Completely washable and easier to clean
Excellent in environments with high dirt loads
Low airflow resistance; works well with high-velocity airflow
Exclusive Accumulator Chamber® design for maximum performance
Available in an endless number of customizable sizes
UL Classified as to Flammability Only
Available in white polypropylene (FDA-approved, natural for food service) or black polypropylene media with UV protection for outdoor use
Comes in a 1/2″, 1″ or 2″ thick galvanized steel frame; stainless steel or aluminum frames are also available
Can I Use the Model IN with My High-Efficiency Filters?
The Model IN can be used as a prefilter to protect your more fragile and pleated high-efficiency air filters, keeping larger debris out and providing superior filtration benefits. In fact, a Model IN filter can extend the life of your high-efficiency filters by 2-3X.
Is the Model IN Environmentally Friendly?
Very. Constantly buying and replacing air filters is not only costly but adds to landfill waste. Since the Model IN is a washable electrostatic air filter, however, they can be cleaned and used over and over again.
Can Model IN Filters be Used in Wet Environments?
Definitely. When built with a stainless-steel frame. Model IN washable electrostatic air filters work extremely well in wet, marine environments where mold and bacteria are a concern.
Does a Model IN Filter Come with a Warranty?
Yes, the Model IN washable electrostatic air filter, like many of our filters, come with a 5-year warranty.
Can I See One for Myself?
Yes, you can. We are so certain you will be impressed by our Model IN electrostatic air filters, and how easy they are to clean and how cost-effective they are—we are happy to send you a free, no-obligation sample. Contact us and order your free Model IN washable electrostatic air filter sample today.
There's a reason so many facilities, from data centers to apartment buildings, shopping malls to warehouses will only use Model IN washable electrostatic air filters. Try one yourself and see the Model IN advantage.