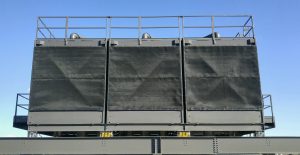 Data centers house the computers that manage the world's information. They're also thirsty for power, consuming more than one percent of the world's electricity. Much of that energy goes toward running servers and sensitive IT equipment … but nearly 40% of the total energy consumed is spent on data center cooling, which prevents servers, chips and other components from overheating. Your HVAC system is a vital piece of the operation. It maintains proper temperature and airflow, which in turn minimizes costs, maximizes uptime and keeps your equipment running smoothly. Here are more data center cooling facts:
Temperature Control is a Priority
Data center cooling costs can approach, equal or even surpass the cost of powering the valuable IT equipment inside. Maintaining an optimal environment can save an operator millions of dollars annually.
Outages are Massively Expensive
Downtime from poor HVAC performance alone can cost hundreds of thousands of dollars a minute. The average cost from a single power outage in downtime alone is nearly $700,000.
Mother Nature Works Against You
Data centers are often located in large open spaces surrounded by trees. Cottonwood seeds, bugs, leaves, dust and debris can get blown into the air intake systems, decreasing performance, increasing repair bills, dramatically reducing equipment lifespans and requiring frequent and costly cleaning. Keeping airflow entrance points clean can be difficult, expensive and time-consuming.
Indoor Air Quality Matters, Too
As temperature and humidity rise, condensation can damage the technology from within, eroding electronics and putting millions of dollars of equipment at risk. Optimal, clean airflow lessens corrosion in circuit boards and reduces hot spots. Employees can breathe easier, too.
Permatron Helps You Save on Every Level
Permatron offers many air filtration options including:
Our PreVent® Air Intake Filter System, which reduces data center downtime, lowers maintenance costs, slashes energy bills and cuts capital expenses.
PreVent custom filters, which protect your chillers, dry coolers, cooling towers and fresh air intakes.
Our Model IN Commercial Air Filters, which use a unique three-stage air filtration process that's superior to ordinary metal mesh prefilters. These filters protect the more expensive final filters downstream from large particles and extend the life of the final filters.
PreVent is #1 for Data Center Cooling Filtration
We protect some of the world's largest data centers, and many other places where proper air quality is essential, as in these three examples:
We help reduce or even eliminate traditional coil cleanings. A Chicago data center went from cleaning coils on their CRAC and chiller equipment four times per year to only one time per year.
We help reduce cooling tower strainer cleanings. A Carolina-based data center reduced their annual strainer cleanings by 75%.
We help extend the life of disposable pleated filters. Since installing PreVent on their outside air intakes, a Northern Virginia data center is saving over $2,000,000 a year from the cost of disposal filters alone.
Our filtration products are used wherever air quality matters, to protect the health and performance of people and equipment. To learn the nine advantages of the PreVent system, and six points that set our Model IN Commercial Air Filters apart, download this brochure.