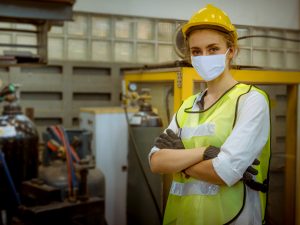 As an air filter manufacturer, we've long promoted health and safety in workspaces through cleaner, purer air. But over the last few months, as the pandemic has influenced nearly every aspect of all of our lives, the benefits of clean air have only become more evident and more critical. During these unprecedented times, at Permatron we've educated ourselves and our employees. We've established new internal protocols and processes to keep us safe and healthy. And now, in partnership with our parent company Rensa Filtration, we've expanded our manufacturing to produce certified, proven-effective ASTM-rated surgical face masks to protect you.
Face Mask Basics
Studies show that face masks, when worn correctly, can help stop the spread of communicable diseases like COVID-19. When we cough or sneeze—or even just talk or breath heavily—we propel respiratory droplets that can carry diseases and infect others. Surgical face masks keep those droplets out of the air. Since a great number of people who are infected don't show any symptoms and may pass on COVID-19 unknowingly, wearing masks can play a big role in reducing infection rates. But some masks are far less effective than others. In fact, poorly made face masks may do more harm than good by providing false auras of safety, putting well-meaning people at risk of spreading COVID-19.
According to the CDC, face masks should:
Fit snugly around the nose and chin, with no large gaps around the sides of the face
Be made with breathable fabric (like cotton)
Be made with tightly woven fabric (i.e. fabrics that do not let light pass through them when held up to a light source)
Have two or three layers of fabric
Why ASTM-Rated Surgical Face Masks are Better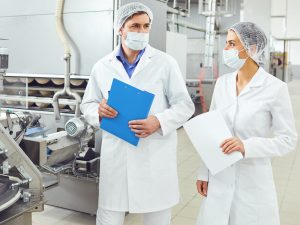 ASTM International, formerly known as American Society for Testing and Materials, has developed the world's leading technical standards for fluid resistance, filtration and breathability. They have also established testing standards to assure face masks, gloves, hand sanitizer and other PPE equipment provide appropriate medical-grade protection. They test for fluid resistance, breathability, bacterial filtration, particulate filtration and flammability. There are three ASTM standard levels with their two highest, Level 2 and Level 3, both providing at least 98% particle filtration (see this helpful chart from Cardinal Health for a rundown of all the requirements).
Permatron Face masks: ASTM-Rated Surgical Face Masks Made in America
For more than 60 years, Permatron has been a leader in designing and manufacturing custom-made air filters to protect people, products and HVAC systems from dust and micro-contaminants. We've now put our air purity expertise into manufacturing disposable ASTM Level 2 and 3 surgical face masks.  Developed in partnership with Rensa Filtration, ClearCare™ Surgical Face Masks are triple-layered for extra protection, have polypropylene ear straps for all-day comfort and are made from premium, breathable material, plus our disposable ClearCare™ Surgical Face Masks are—
High Quality. Made from never-recycled virgin fibers.
Fabricated with more non-woven materials for a softer, more comfortable feel.
Backed by Permatron's experienced operations and proven reliability.
100% American Made. Manufactured by our team in Elk Grove Village, IL. Every mask you purchase supports jobs here at home.
Part of the Rensa Filtration Family
Permatron is part of the Rensa Filtration family of companies, delivering best-in-class custom air filters and air solutions that keep people safe and industries thriving. From face masks to filters, depend on the quality we built our reputation on.