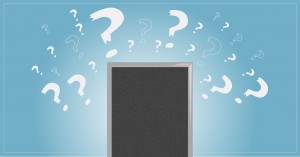 Air filters have a simple purpose, which is to remove harmful particles and bacteria that affect your indoor air quality. Contamination such as building materials, cleaning products, pets, office machines and appliances are continually recirculating throughout the heating and ventilating system. The air inside even the "cleanest" home or office is loaded with millions of invisible pollutants that may be causing adverse health effects.
Which air filter is best for you?
For home and indoor use; DustEater® ultimate allergy relief air filter is significantly more efficient than standard throw away filters that only trap very large particles. DustEater uses two electrostatically charged fabric panels separated by our unique Accumulator Chamber®. Just like how iron fillings are attracted to magnets, the inherent or natural electrostatic charge in the air filter media attracts and holds airborne debris.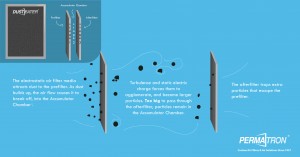 Ceiling air diffusers can recirculate dust into an office environment. Hot or cold air being blown into the workplace also includes dust that has accumulated within the duct systems of the building. Many allergy triggers, like pollen, dust, lint and mold, are present in air ducts. Indoor air is recirculated and can be up to 70% more polluted than outdoor air. At Permatron, we offer custom 3-D bonnet style air filters for many different types of ventilation applications. These air filters are made with washable, electrostatic polypropylene that effectively traps dust until you clean it.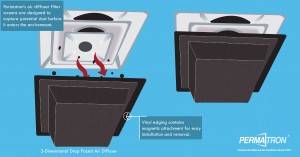 HVAC systems can be the biggest challenge for facility management. Minor malfunctions tend to be the most noticeable among building occupants and processes. PreVent® air intake filters are the best defense against outdoor debris and particles. PreVent is a prefilter that stops airborne debris such as cottonwood, leaves, seeds, pollen, nesting, etc. from entering air intake openings. Filter installation requires no system modifications or electrical hookups. Custom made to exact dimensions with a steel or vinyl frame, filters are easily affixed to the outer perimeter of the air intake. Our unique mounting options include patented magnetic stripping 0r hook/loop, as well as grommets and mounting clips. Installing PreVent has become faster and easier than ever before with the use of our new MagnaMount®"earth" magnet mount clips.