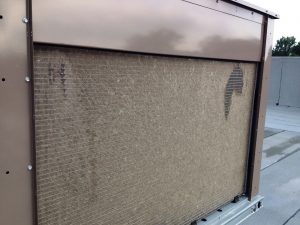 The hearty cottonwood tree can grow to be 100 feet tall. They're tall, majestic, and, frankly, a pain in the you-know-what for building managers. Their white, fluffy seedlings are sucked into rooftop HVAC units, impairing air flow, reducing filter life, and increasing repair costs. HVAC units may also need weekly cleaning. With spring approaching, now is the time to protect your units from spring debris, with cottonwood filter screens.
The Benefits of Cottonwood Filter Screens
Air intake filter screens, often referred to as cottonwood filter screens, are the easiest and most effective way to protect rooftop equipment from cottonwood, leaves, bugs and other debris. PreVent® air intake filter screens, part of the PreVent system, are simply the best cottonwood filter screens you can buy. They fit over the open, ventilated areas of your rooftop HVAC units, and are entirely customizable.
Here are six great reasons why you need PreVent screens now:
PreVent air intake filter screens fit. They can be used with any sized business, from the largest data centers to businesses on your block.
PreVent air intake filter screens are easy to install. Powerful MagnaMount®earth magnets let you secure PreVent screens without any tools or professional assistance. Just snap one into place in minutes. Removing the screens is just as easy.
PreVent air intake filter screens save you money. They reduce maintenance costs, help your equipment last longer, and slice electric bills. As reported by Process Cooling magazine, the average annual cost of running a system with dirty coils for a 100-ton HVAC system is a staggering $22,500! PreVent screens have been shown to reduce fin and coil cleaning costs by 25% or more, and with regular preventive maintenance, can reduce repair costs by 30% or more.
Cleaning PreVent air intake filter screens is simple. They can be cleaned or brushed off in place, with no downtime.
You can get them now. Unlike other customized cottonwood filter screens, there's no unnecessary waiting. We offer the fastest turnaround in the industry.
PreVent works. Recently, Japanese sake company Gekkeikan installed PreVent air intake filter screens at their state-of-the-art North American brewery in Folsom, California. Air and temperature control are critical when making great sake, and Gekkeikan relies heavily on a 180-ton Daikin chiller to cool their 52,200 square foot plant and warehouse. Unfortunately, their facility is surrounded by trees, including cottonwoods. Those cottonwood seeds were continuously causing problems and shutting down equipment. They needed cottonwood filter screens, and we were happy to help. The entire cost of the project, including materials and installation, was less than 1% of their annual HVAC investment. But as a result, their HVAC cleaning costs have decreased by two-thirds, and they have practically eliminated HVAC downtime.
PreVent: The Simply Better Solution
PreVent air intake filter screens also come with a five-year warranty, are backed by exceptional service and support, and are made right here in the U.S.A. Cottonwood trees may be beautiful, but they are nothing but trouble for HVAC equipment. Be proactive and order your PreVent air intake filter screens today, the best cottonwood filter screens on the market. PreVent air intake filter screens are simply easier. Simply better. In fact, there's nothing simpler.