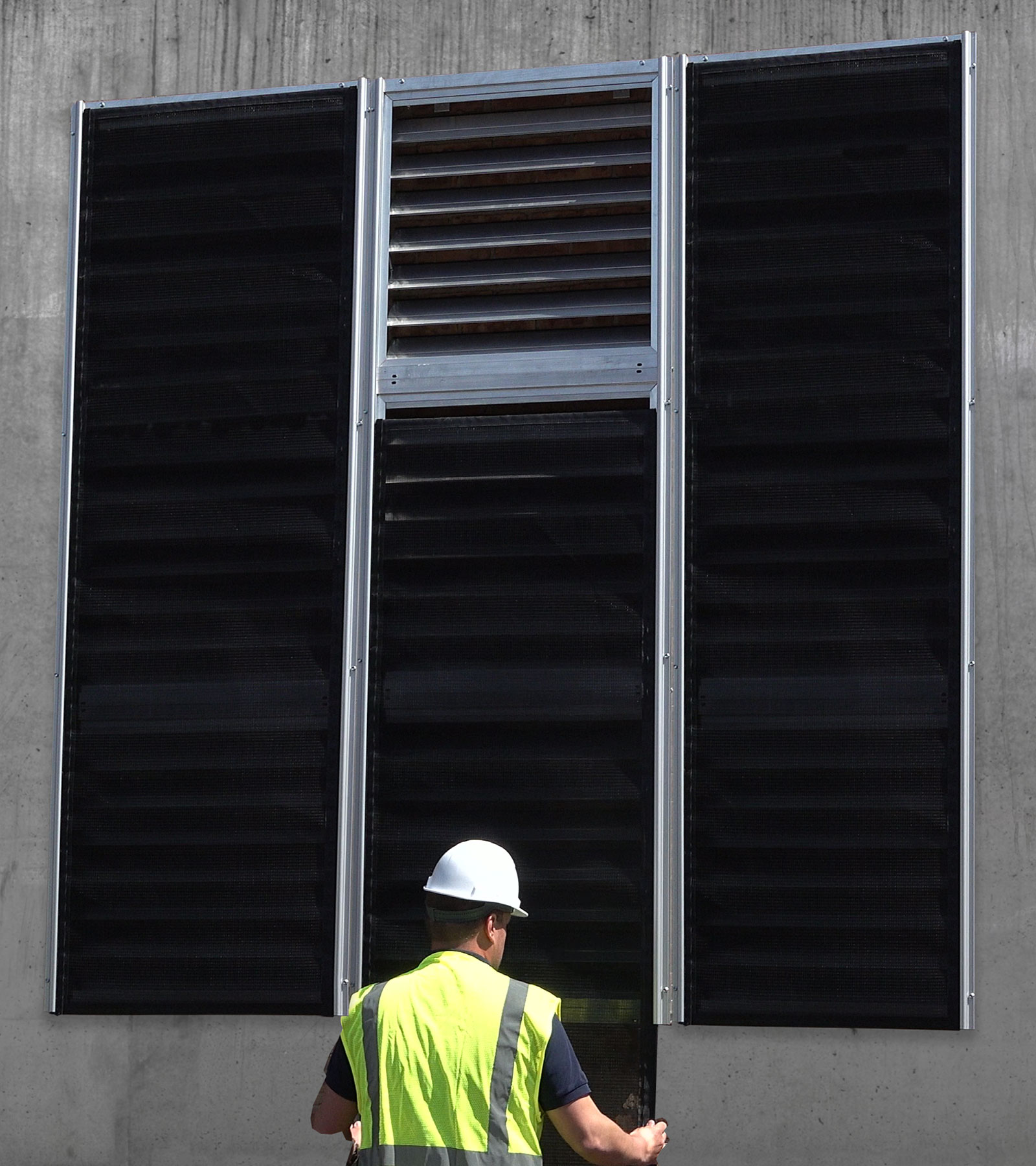 You have PreVent® filter screens on your rooftop A/C units, cooling towers, chillers and other HVAC equipment. That's smart. But while it only takes a few minutes, reaching your screens can be difficult and time-consuming when they are on a roof or high on a wall.
Until now. We've designed an entire, effortless system—the PreVent EZ-Rail System™—that makes removing or replacing your PreVent air filter screens fast and simple.
Making the Hard-to-Reach, EZ
The PreVent EZ-Rail System, developed by Permatron, is the patent-pending, innovative and convenient way to remove or replace your air filter screens from hard-to-reach HVAC fresh air intake louvers without needing ladders or lifts. Once you've installed the PreVent EZ-Rail System mounting option, you just easily slide your PreVent air intake filters in and out of the system from below without any extra equipment or tools. The PreVent EZ-Rail System can be used with both our PreVent Models U or BHA.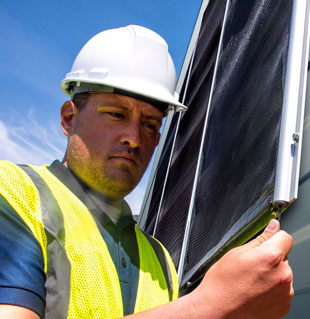 Installing the PreVent EZ-Rail System is just as easy, with high-strength anodized aluminum rail track supports that screw into the louver frame on your equipment enclosure. Each PreVent filter is customized and features our exclusive vinyl framing with PVC cords, designed specifically to fit our rail track tightly and securely. The rails are built to last—they withstand extreme outdoor or indoor exposure, corrosive chemicals, high-velocity airflow and industrial cleaning and maintenance. They're UV protected, UL classified, and have a 5-year warranty.
The Best Air Filter Screens are Now Even Better
What makes the PreVent EZ-Rail System so indispensable are the PreVent screens themselves. If debris gets sucked into your HVAC equipment, such as cottonwood, leaves, insects and even dust, it can shorten air filter life, impair airflow and lead to pricey repairs. PreVent prefilter screens fit on the outside of your air intake openings, preventing unwanted debris from getting inside and harming the vulnerable fill material, fins and coils. Each PreVent screen is custom-made for a perfect fit, is easy to install and is built from high-quality, long-lasting materials. Plus, our USA-made filters are backed with 5-year warranties and the fastest turnaround time in the industry.
Get Started
You're smart to install prefilters to protect your HVAC equipment. But you're even smarter installing the new PreVent EZ-Rail System, too.
Contact us to order your PreVent products or learn more about our EZ in, EZ out PreVent EZ-Rail System.