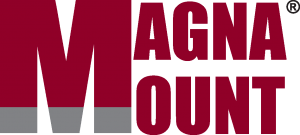 Reduce installation time to minutes. Check.
Eliminate the need to drill into equipment. Check.
No tools required. Check.
MagnaMount® (Patent No. US 10,180,265) has changed the way to install PreVent® filters onto the outside of equipment air intakes. Why is this product so effective? These quick mounts completely eliminates the need to drill into equipment. MagnaMount mount clips contain a powerfully strong neodymium "earth" magnet that sticks to metal surfaces, allowing them to be repositioned as needed. Reducing installation time to a matter of minutes without the need of tools.
 Tested for pull strength:  In a horizontal straight down pull the magnet will hold 5 Kilograms – which is 11 pounds before letting go.  In a vertical slide test the magnet will hold 1.0 – 1.1 kg before letting go.
Non-metal surface installations are easy with the addition of our press on steel plate adapter containing high bond, high tensile strength tape adhesive permanently affixed to surface.